Meet us
SEDA ROSA - means Silken Rose in Portugese. We are able to blend the music and song from Spain, Portugal and South America into a wonderful and intimate experience!
BOOK US!
Since we are two, we quickly fit in.
Whether you need us for a wedding, a romantic even at home, a dinner party, a musical soiree, to entertain your guests during courses at your restaurant or garden feast, anniversary or opening, we will be there, creating a lovely musical atmosphere.
SEDA ROSA is the name of a musical duo that started in 2014 in the Netherlands. It was the result of Eveline Satink ("Seda") teaming up with Enrique de la Rosa ("Rosa"). Both love to perform South-American and Spanish music.

Singer Seda (born 1957) was already actively performing in different formations for twenty years after she had been trained in classic singing for 8 years by Maria Daane, teacher of the Rotterdam conservatorium.
The most important formation she considers to be the cooperation with singer/composer/guitarist Luis Lopes Oliveira de Sousa between 1995 and 2010, under the name MÓ (Portugese for 'Millstone').
In 2002 they were delighted to be selected for a televised performance on the occasion of the marriage of Queen Maxima & King Alexander of The Netherlands.
With a musical repertoire of around 80% self-written and -composed songs they traveled throughout Portugal, Holland and Belgium. Then followed performances for universities in Belgium, for Portuguese students and cultural clubs, Le Foire du Livre in Bruxelles.

Enrique de la Rosa (born 1958) is a passionate guitarist, singer and composer. His virtuosity on the guitar and heartwarming voice will deeply touch most who hear him play.
Being a self made musician he managed to expand his own unique style, inspired by flamenco, gipsy-jazz, and other styles that breathe 'Corazon'.
He played in different theaters in Holland, o.a. Tuschinski Theater Amsterdam. He also entertained audiences in different well-known hotels and restaurants, among which the Grand Hotel 'Huis Ter Duin' in Noordwijk en Restaurant 'De Swaen' in Oisterwijk, owned by famous chef Cas Spijkers.
Enrique played on several occasions with Dutch (and international) musical icon: Thijs van Leer.

With mostly self-written / composed songs, the duo traveled through Portugal and Belgium, performing at universities and in cultural clubs.
SEDA ROSA bedeutet im portugiesischen "Seidene Rose". Es fasziniert uns, Musik und Gesang aus Spanien, Portugal und Südamerika in einer wunderbaren Mischung zu verschmelzen. Wir lieben es, musikalisch Träume zu wecken...
LADEN SIE UNS EIN!
Wir sind zu zweit, haben also überall Platz.
Ganz gleich, ob Sie an eine Hochzeit denken, einen romantischen Abend zuhause, eine Dinnerparty, eine musikalische Soiree oder um Gäste im Restaurant während der Menue-Gänge zu unterhalten, beim Gartenfest, Jubiläum oder der Eröffnung eines Geschäftes: Wir kommen gerne, um eine warme musikalische Atmosphäre zu schaffen.
SEDA ROSA ist der Name eines musikalischen Duos, entstanden 2014 in den Niederlanden zwischen Eveline Satink (Satin=Seda) und Enrique de la Rosa. Beide lieben die lateinamerikanische Musik.
Sängerin Seda
(geb. 1957, Gesangsausbildung Konservatorium Rotterdam) tritt seit 20 Jahren mit verschiedenen Partnern auf. Hervorzuheben als Duo "MO" (Mühlstein) mit Sänger / Komponist / Gitarrist Luis Lopes Oliveira de Sousa von 1995 bis 2010. Höhepunkt ein Fernsehauftritt anlässlich der Hochzeit von Lex und Max 2002.
Enrique de la Rosa (geb. 1958) ist passionierter Gitarrist, Komponist und Sänger mit virtuoser, herzerwärmender Stimme. Als "self made" Musiker, inspiriert von Flamenco, Gipsy Jazz und anderen Musikrichtungen, gelingt es ihm, viel "Herz" auszustrahlen. Er spielte in verschiedenen Theatern in den Niederlanden, u.a. im Tuschinski Theater in Amsterdam, in bekannten Hotels und Restaurants, u.a. Grand Hotel "Huis ter Duin", Noordwijk, Restaurant "de Swaen", Oisterwijk (berühmter Besitzer Cas Spijkers). Verschiedentlich spielte Enrique außerdem mit der bekannten Musikikone Thijs van Leer.
Mit mehrheitlich selbstgeschriebenen/komponierten Liedern zog das Duo durch Portugal und Belgien, mit Auftritten an Universitäten und in kulturellen Clubs.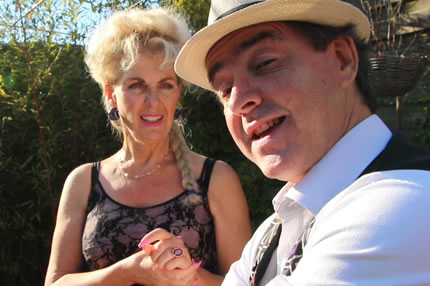 The new Facebook avatar



We love to hear from you.

If you had a chance to see & hear
us live please leave some feedback
too - it's greatly appreciated!

See you soon!!!